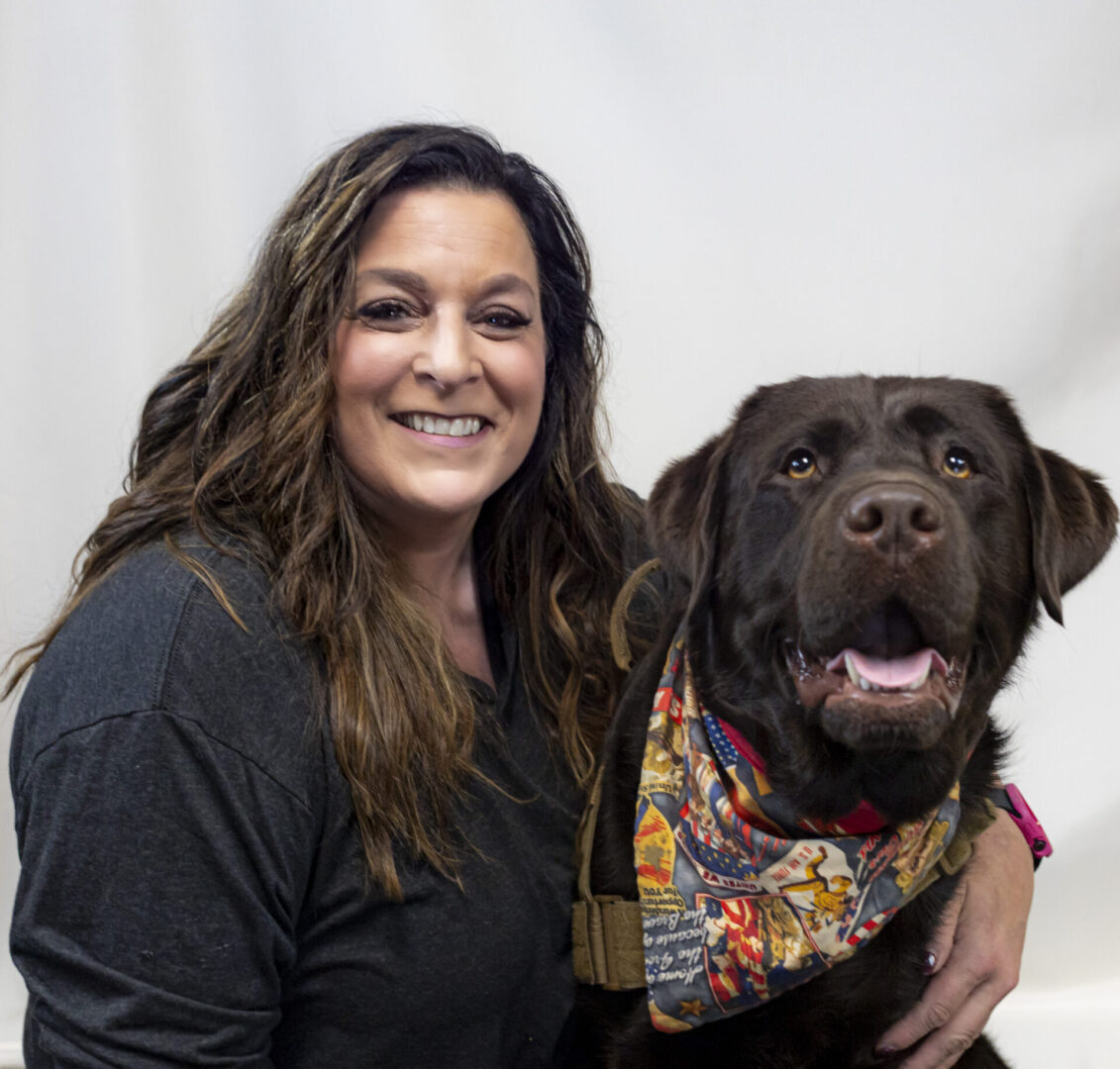 Jennifer Green, CPDT-KA, Owner of Tail Waggers Academy & is a certified dog trainer who practices positive reinforcement-based methods in her training. She is an AKC Canine Good Citizen Evaluator and a professional member of the Association for Professional Dog Trainers. Jenn is a force free trainer and follows LIMA philosophy in all training.  She works on building and strengthening relationships with dogs and their people to create a mutual relationship and bond with each other.
Jennifer specializes in service dog training for disabled humans, therapy dog training, impulse control and real life training transition.
She also specializes in behavior modification for a variety of behavioral issues.
She is also the Founder and Director of Training of Alpha Bravo Canine™️. Her non-profit organization raises, trains, and donates service dogs to disabled veterans with combat-related PTSD, TBI, and physical disabilities.
Tracy Ruepp joins Tail Waggers Academy as our Puppy Development & Spunky Teen Specialist.
Her goal is to help pet owners nurture and guide their puppies through their critical development.  Puppy Management includes biting and nipping, enrichment, potty training, crate training, body handling, impulse control and more.
Spunky Teens Adolescent pups can be more active, independent, exploratory and pushy for things they want. Tracy will help dog owners learn how to manage and help adolescent dogs control themselves and learn boundaries at home and in public! This program is also wonderful for unruly adult dogs that need to learn impulse control and better behavior in the home.
All private lessons can be customized based on your training goals.  All methods used are positive reinforcement and Tracy also follows the LIMA (Least Intrusive, Minimally Aversive) philosophy, https://m.iaabc.org/about/lima/ Tracy is also an AKC CGC evaluator.
Tracy grew up in Leicester, England and met her Swiss husband whilst at graduate school in Manchester in the north of England.
Tracy is a resident in Yardley, Pa with her family and two dogs Jack, her St Bernard and Betsy her Labrador Retriever.  When Tracy is not training with Tail Waggers Academy she is busy with Jenn's nonprofit organization, Alpha Bravo Canine where she is the Puppy Raising Director and is active with her kids with their sporting events.